LAX AIRPORT (LAX) INFORMATION
Origin
Airline
Flight no.
Scheduled
Est./Actual
Status
No flight arrivals were found at LAX Airport.
Destination
Airline
Flight no.
Scheduled
Est./Actual
Status
No flight departures were found at LAX Airport.
Car Hire at LAX Airport
UNBEATABLE VALUE CAR RENTAL
Free Amendments | Free Cancellations | No Card Fees




LAX Airport - All Information on Los Angeles Airport (LAX) LAX Airport
1 World Way, Los Angeles, CA 90045, United States
phone +1 855 463‑5252
phone+1 424 646 5678 (Lost + Found)
emailinfoline@lawa.org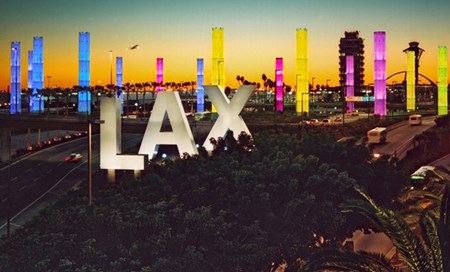 As the third busiest airport of the United States of America and the sixth busiest in the world, Los Angeles LAX Airport provides passengers with more than 600 flights per day. Around 75 US and international airlines take passengers to some 91 domestic destinations as well as providing weekly non-stop flights to some 58 international city destinations.
Last year the airport handled more than 84 million air travelers. Despite the world-wide downturn in holiday bookings owing to the financial problems in the USA and abroad, the three Southern Californian airports, of which Los Angeles is one, were busier than ever last year. The other two airports serving the south of California are Van Nuys General Aviation and LA/Ontario International.
Los Angeles LAX Airport began life as a general aviation field in 1928, but the airfield wasn't used for commercial aviation until 1946. The present grouping of terminals dates back to 1961 and the early 1980's, when international and new domestic terminals were constructed together with better access roads.
In total there are nine passenger terminals forming the center of the LAX airport complex. These terminals are linked by a U-shaped, two-level roadway system. Passengers will find the curb side baggage check-in on the upper departure level, while the reclaim for arriving passenger baggage is located on the lower level. The terminals are connected by free shuttle services running at regular intervals throughout the day and night. The shuttle services also link the terminals and the remote parking lots for short and long-term parking.
The terminals feature plenty of restaurants and snack bars serving local cuisine as well as ethnic-style food and beverages. Naturally, there are also the usual branded fast-food outlets, cafes, cocktail lounges and bars, newsstands and plenty of duty free shopping facilities for passengers to choose from. At the Tom Bradley International Terminal passengers also have access to a first-aid station in case of minor medical emergencies.
Arrivals, Departures and Airlines at LAX Airport
Throughout the terminals there are ATM's for cash transactions and public telephones, free WiFi zones for internet access, as well as business center facilities for business travelers needing access to photocopying, computers, meeting rooms and telephones. Designated telephones connect to bus and limousine services and hotels as well as motels in the area. There are also around 21 car rental companies serving LAX airport and these special telephones connect to the car rental hire desks, too.
LAX Airports piece de resistance is the Encounter Restaurant with observation deck, located in the center of the historic Theme Building complex of the airport. The restaurant and observation desk are perched some 70 feet above the ground level and the restaurant's interior has an ultra-modern, space-age interior styling that puts diners in mind of the famous US animated series The Jetsons, a favourite with children during the late 1960's and 1970's, when the Apollo missions to the moon were on every news channel in the world.
The observation deck only opens its doors to the public on weekends, when during the hours of 8.00 am and 5.00 pm visitors can enjoy amazing views over the airport complex, aprons and runways.
For more information about LAX Airport, please visit the official website at www.lawa.org/welcomelax.aspx.
Parking at LAX Airport
See options for parking services at LAX Airport.
Hotels near LAX Airport
There are a number of hotels to suit all budgets and requirements at or near LAX Airport.
Additional Services and Amenities at LAX Airport
At LAX Airport you will find the usual array of bars and restaurants, airport lounges and shops.
Things to do in Los Angeles
There are a number of activities to suit all ages and interests in the region - see a selection of tourist activities in Los Angeles, California in the USA.
Useful Information about LAX Airport