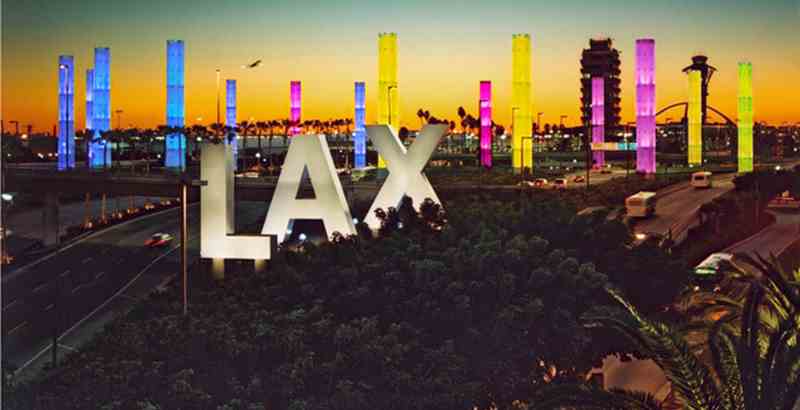 Los Angeles Tourist Attractions
For California travelers with a rental car and a desire to make the most of their visit to the Golden State there is an unlimited number of amazing attractions to see. Most of the family attractions and theme parks can be reached by public transport, but the real star attraction is the stunning scenery of the Californian landscapes, as varied as the state's theme parks, museums and other Los Angeles tourist attractions!
There are the most beautiful coastlines, lakes, rivers and mountains to be admired – not to mention several stunning national parks such as Yosemite National Park and Death Valley National Park for example.
At Newport Beach visitors can watch whales in their natural habitat. Here every year dolphins and whales as well as many other wonderful marine creatures greet visitors with natural charm and their own inquisitive nature. Several tour operators offer cruises to some of the best whale spotting sites, but there's also the sunset over the harbour to admire, while eating some of California's finest seafood!
At the nearby City of Irvine there are the Irvine Museum, the Laguna Art and Orange County Museum of Art to keep art lovers and culture fans happy, while Santa Monica caters for those who love the good life, a relaxed holiday with lazy afternoons sitting on the pier watching the world go by.
Los Angeles tourist attractions naturally include some of the world's most popular theme parks. The Universal Studio experience will stay with visitors for a long time to come – here are some of the most exciting interactive exhibits to be seen, from Jaws trying to snatch visitors out of their boat to many other famous Hollywood film re-enactments.
At Disneyland's family attraction young children in particular won't want to leave – there are Mickey and Goofy, there are Donald Duck and his friends still to be met, before one can pay a visit to the fairy tale castle, Snow White and all the other amazing Disney characters everybody loves so much!
Several Los Angeles tourist attractions are located further out of town – there are the "ghost towns of frontier days gone by", where Westerns are re-enacted by amazing stunt men and women showing visitors how cowboys and ranchers really lived.
An even longer drive takes visitors to the beautiful Santa Monica Mountain range. Taking a coastal route along the Pacific Ocean is the dream of many music fans who love the songs of the 1960's and 1970's, especially when travelling in a convertible. Los Angeles Airport offers plenty of choice with regard to car rental – some of the biggest players in the business provide car hire at LAX. Why not make that dream come true and travel from downtown LA to San Francisco, taking in the stunning scenery at Yosemite National Park on the way?
Public parks in Los Angeles are not just about horticulture and relaxation - some contain marvellous tourist attractions, too. Exposition Park, close to the city center, can offer the Los Angeles County Museum of Natural History, where kids of all ages will adore the dinosaurs and dioramas on display. The California Science Center on the other hand is devoted to all things modern and its exhibits show the concept of science behind the everyday technology we use as well as exhibiting the history of science.
Central or downtown LA provides visitors with an astonishing choice of attractions. There are both branches of the Museum of Contemporary Art (the MOCA Grand Avenue and Geffen Contemporary) for lovers of the avant-garde and interesting developments in the American art scene. The Japanese American National Museum and Chinese American Museums both deal with two great nations immigrants to the United States and how they played a part in present day America's history.
The Wells Fargo Museum is dedicated to one of America's oldest and most influential banks; founded in 1852, Wells Fargo Bank has been instrumental in the country's development from early settler history to present day Wall Street scandals; admission to the Wells Fargo Museum at 333 Grand Avenue is free. The museum displays exhibits from early settler days, including stage coaches and their history to maps showing how the United States of America evolved.
The Grammy Museum is devoted to all things music and anyone interested in musicals and stage shows will love this place. Come and marvel at the memorabilia dating back to the days of the Beach Boys, the Beatles, Whitney Houston and Michael Jackson, and the great days of music moguls running their vast music empires. Contemporary music has not been forgotten either: there is an entire section devoted to the Art of Rap.
Visitors to Santa Monica and Malibu are treated to very different types of Los Angeles tourist attractions: the Getty Villa, once home to the reclusive billionaire, opens its doors to art lovers of all ages, as does the Santa Monica Pier Aquarium, where they appreciate the artistic exuberance of nature! The beach-level location of the marine-education center couldn't be more inviting. The pier has other attractions, too - there is a great wheel, wonderful restaurants, shops and an amusement park for everyone to enjoy.
Pepperdine's Surf Museum welcomes a very different kind of clientele - surfers from around the world will love the John Mazza Collection of Classic Malibu Surfboards, exhibits on surfboard technology and the stories about surfer culture connected to them. The museum is located at Pepperdine University's library and can be viewed Mondays to Fridays between 9.00 am and 5.00 pm.
UNBEATABLE VALUE CAR RENTAL

FREE
Amendments,
FREE
Cancellations,
NO
card fees!

airport_shuttle Need Airport Transfers?
Useful Information about LAX Airport